Concessions
The Ford Idaho Center offers a wide variety of food and beverage choices.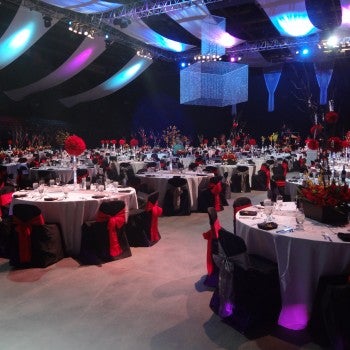 The main concession stand, located on the north concourse near Entry #1, offers items such as hot dogs, popcorn, pretzels, candy, and BBQ beef sandwiches. Just down the concourse, The Grill offers fan favorites such as cheeseburgers, chicken sandwiches, chicken strips, corn dogs, fries and mouth-watering onion rings. A variety of beer and wine, from Miller/Coors and Craig Stein Beverage, is available throughout the Arena for fans 21 years of age or older. The official soft drink of the Ford Idaho Center is Pepsi. We also feature Coned! Pizza, Maui Wowi, Mini Donuts!, Idaho Nut Shack, Kona Ice, Fire & Ice, Stella's Ice Cream, and Heidi's Kettle Korn seasonally.
The Ford Idaho Center has a full service kitchen and catering staff to service groups as small as 20 people or as large as 2000. We have a large variety of menu choices and will customize a menu to meet your needs.
Please contact our catering manager at (208) 442-3237 for a catering guide.
Sodexo, as the provider of food services at the Ford Idaho Center, offers non-profit organizations a way to raise money by working in the concession stands. Reliable non-profit groups are needed to staff concession locations in exchange for a percentage of the net sales. Sodexo and the Ford Idaho Center have contributed over $196,000 during the past three years to local schools, churches and civic organizations. The amount of money each organization earns varies by event and number of volunteers required. Volunteers must be 19 years of age to serve alcohol. For any non-profit group interested in raising money through the Ford Idaho Center concession stands, please call (208) 442-3237.