Venue Policy
Ford Idaho Center is dedicated to providing an exciting and memorable guest experience while ensuring the safety and security of all patrons. To support this goal the following general information and policies apply to our guests while attending events on property. Guests who violate any of the policies will be subject to security questioning which may lead to ejection from the arena.
To create a safe and friendly environment for all guests!
We expect all who enter Ford Idaho Center properties including parking lots to adhere to this Code. Failure to follow this Code may result in ejection from Ford Idaho Center, revocation of ticket privileges, and/or arrest. T
The following actions are violations of the Guest Code of Conduct:
Fighting, taunting, instigating or encouraging any action that may harm, endanger, threaten, or bring discomfort to anyone.
Foul or abusive language or obscene gestures concerning a person's race, ethnicity, color, gender, religion, creed, disability, age, sexual orientation, gender identity/expression or national origin.
Any action that causes a disruption, creates an unsafe environment or interferes with the event including throwing or dropping any object in the arenas or amphitheaters.
Actions that impair others' ability to enjoy the event, including mistreatment of other guests, verbal abuse, harassment, profanity, confrontation, intimidation, or threatening and irresponsible behavior.
Unreasonably obstructing the view of other guests.
Failure to follow the directions of staff and/or law enforcement, including refusal to produce proof of ticket or refusal to submit to security screening inclusive of physical searches prior to entering.
Sitting in a location other than your ticketed seat, any unauthorized use of disabled seating areas, lingering in aisles, stairways, or unauthorized areas of the stadium.
Possession or consumption of illegal or prohibited drugs or substances.
Intoxication or other signs of alcohol impairment or substance abuse that results in irresponsible behavior.
Smoking inside the arenas or amphitheater, including the use of vaporizers and e-cigarettes. Designated smoking areas are located throughout the property.
Possession of any item listed on the Ford Idaho Center Prohibited Items List.
Clothing that is deemed offensive, obscene, or inappropriate by staff.
Damage, destruction, vandalism, or theft of any property.
Any action in violation of any local, state, or federal policy.
Tailgating ends at the start of the event. There is no loitering or tailgating in the parking areas during or after the event. Those participating in these activities are subject to ejection from the property, revocation of event tickets, citation and/or arrest for trespassing. All parking lots are cleared one hour after the end of the event.
Per event request, the following items are prohibited at the Ford Idaho Center: weapons, laser pointers, backpacks, video cameras & recording devices, professional cameras and/or detachable lenses, umbrellas, coolers, non-service animals, balloons, glass bottles, selfie sticks, noise makers, signs, banners, posters, flags, wagons, strollers, and outside food & beverage.
All patrons could be subject to bag searches, wanding, pat-downs, or a combination per show request.
To remain in line with industry safety standards the Ford Idaho Center is implementing a bag size restriction. Soft shell bags will be restricted to 12" X 12" X 8". Large bags and hard cases are not permitted. Clear bags are encouraged. Exceptions will be made for medically necessary items after proper inspection.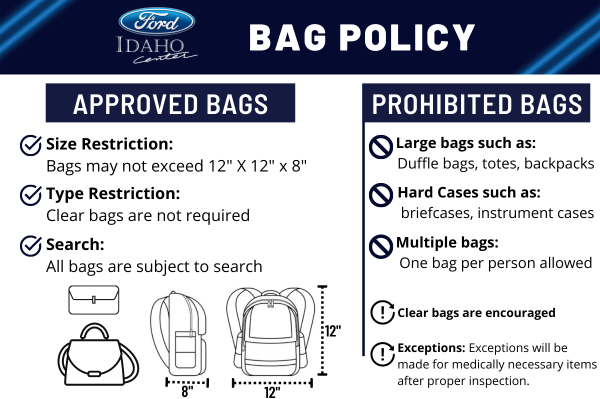 Walk-through metal detectors are being utilized for most events, including all concerts, assembly style functions, and most ticketed events; private events are at the discretion of the client(s). Fans are encouraged to allow for extra time to enter events and to leave non-essential items at home.
There are three locations permitted for gathering, they are located in high traffic thoroughfares around the facility.
Location 1A-1: Used for Ford Horse Park events
Location 1A-2: Used for Ford Arena & Ford Amphitheater events
Location 1A-3: Used for Ford Horse Park & Ford Sports Center events
These three locations were selected due to their proximity to the venues, visibility by event attendees, flat ground, and safely out of the way of vehicle traffic. Each location will be set with bike rack in order to create a safe perimeter & to designate the gathering location. See attached map for gathering locations.
The usage of the gathering locations is to be scheduled through Ford Idaho Center management. Please contact (208) 468-1000 a minimum two weeks in advance in order to arrange for the gathering location to be constructed. Please understand that last minute requests will compromise the integrity of the gathering location and will cause delays in the setup.
General Policies:
Individuals exercising 1st Amendment rights are not allowed within the leased and/or non-public areas of the venue without express permission from Ford Idaho Center management or Lessee.
Leafletting and/or papering vehicles is not permitted.
The City of Nampa and the Ford Idaho Center will not unreasonably withhold the usage of the gathering locations.
Gatherer in the designated locations will not behave in a manner detrimental to the venue, lessee, event attendees, employees, or any other parties associated with each respective event.
Adherence to all the policies is required in order to keep a safe & fair place to gather.
In the event the listed policies and procedures are not maintained, the Ford Idaho Center reserves the right to evict the offending party, based on Nampa City Code.
Unannounced assemblies are subject to being trespassed.
The Ford Idaho Center offers 4,000 on-site parking spaces. Cash & credit/debit card are accepted at the lot entries.
Please check the event specific page to see if there is a cost to park at a certain event.
Regular parking rates are $5 per vehicle for family show, community events, and high school events
Premium parking rates are $10 per vehicle for concerts
Main lot RV parking is $40 in the surface lot; no overnight privileges.
For overnight RV camping rates and availability please call 208-442-3335
Parking passes are available in advance for $5 plus fees for ALL event