Ticket Office
BUYER BEWARE
Ford Idaho Center verified tickets are sold through ICtickets.
We cannot verify the legitimacy of tickets purchased through any other site and strongly advise fans to only purchase their tickets through ICtickets at https://ictickets.evenue.net.
ICtickets Box Office Information
Address:
16114 Idaho Center Blvd
Nampa, ID 83667
Phone Number:
(208) 442-3232
Phone Hours of Operation:
Monday, Wednesday & Thursday, 10am-3pm
Additional phone support is avaialble on event day for all public ticketed events sold on ICtickets. Hours may vary.

What if my event is cancelled?
In the case of cancelled events:
FOR TICKETS PURCHASED THROUGH IC TICKETS OR VENUE BOX OFFICE:
- Tickets purchased with a credit card will automatically be refunded to the original card used for purchase.
- If you purchased with cash, please take the following steps:
Visit our box office during business hours:
Monday/Wednesday/Thursday 10am-3pm with your tickets.
OR
Photocopy your ticket(s) and keep the copy for your records.
Mail the original ticket(s) to:
ICtickets, 16114 Idaho Center Blvd #1, Nampa ID 83687.
Include your name and address where the check should be mailed. You should
receive your check within 2 weeks.
FOR TICKETS PURCHASED THROUGH SECONDARY MARKETS:
- StubHub/SeatGeek: If you purchased tickets through StubHub or SeatGeek please contact them directly.
- If you purchased your tickets through any other means please reach out to the seller(s) directly.
FOR ALL TICKET HOLDERS:
For additional questions or concerns please contact us at icticketscs@gmail.com.
Please Note:
**The refund will go to the fan who originally purchased the tickets.
**It can take up to 7 business days to receive your refund.
**Order fees are not refundable.
How do I get the best available seats?
When purchasing tickets online, in person or by phone, all seats are selected from the best available for the chosen price level at the time of purchase. In order to increase your chances for seats that are in high demand, it is best to purchase tickets when they first go on sale.
Where can I purchase tickets?
You can purchase tickets one of two ways:
Online at ICtickets.com

Via phone by calling (208) 442-3232 on Monday, Wednesday, or Thursday from 10am-3pm
Convenience Fees Apply
What is your ticket refund & exchange policy?
Before completing your ticket purchase, carefully review your event and seat selection. Policies set forth by ICtickets prohibit refunds or exchanges after a ticket has been purchased, lost, stolen, damaged or destroyed.
What happens if my tickets are lost or stolen?
If your ticket is lost or stolen, please contact ICtickets immediately. ICtickets will work with you to ensure you can still enjoy the show. ICtickets may require a copy of the police report in the case of stolen tickets.
Are there limits for purchasing tickets?
TIME LIMITS:
During the online ticket purchasing process, the seats you are holding are not available for purchase by anyone else until you release them. However, due to demand, there is a time limit during the checkout process. When this time limit is exceeded, the tickets are automatically released to give every customer an opportunity to purchase tickets.
QUANTITY LIMITS:
Ticket limits vary depending on the event and are determined by the artist, promoter or event management. These limits are in place to provide ticket access to as many fans as possible and discourage unfair ticket buying practices. Ticket limits are verified for all purchases and those exceeding the stated limit may be cancelled without notice.
Does ticket availability change?
Yes. Tickets may become available due to the cancellation of incomplete orders or orders in which the total number of tickets exceed the established ticket limit. Tickets may also become available without notice if inventory that was previously on hold at the discretion of the artist, promoter or event management is released for sale.
Some events are very popular and when tickets go on sale there can be hundreds or thousands of people trying to purchase tickets. Tickets can sell out in a matter of minutes. You can stay informed of new events, on sale dates and pre-sale information by frequently visiting ICtickets.com and/or signing up for the ICtickets Insider.
How are my tickets delivered?
Your tickets can be delivered via Mobile Delivery and in hand digitally with the ability to add to your Apple Wallet or Google Pay phone programs, or held for pick up at Will Call. Will Call tickets can be picked up from ther IC Tickets Office during regular business hours or day of show at the will call windows which typically open 2 hours prior to event start.
Some shows have ticket delivery delays: Some tours and artists request a ticket delivery delay to help prevent scalping and re-seller abuse. This means tickets will be made ready in the designated window (most cases 72 hours) prior to event.
What if the email does not arrive?
If you have not received your confirmation email within 24 hours, please contact ICtickets at icticketscs@gmail.com or 208-442-3232.
What are the Benefits of using SeatGeek
List, Sell, and Fulfill with Ease
Our integration with SeatGeek makes the full selling experience seamless.
Get the Best Bang for your Buck
SeatGeek uses Deal Score technology to recommend optimal pricing.
Safe, Secure, and Validated Transactions
Every ticket on SeatGeek is verified and trusted. All tickets sold are sold
by SeatGeek's Buyer Guarantee.
Ticket Delivery Simplified
Never have to deal directly with buyers or sellers. When your tickets sell, they are
automatically reissued to the buyer, making the process seamless and hassle-free.

More questions?
Visit SeatGeek's FAQ page for additional info.
How to list your tickets on SeatGeek
1. Log in to your IC Tickets account.
2. Click "Sell Your Tickets on SeatGeek".
3. Select the tickets you want to list and contunue to SeatGeek.
4. Sign in to SeatGeek, or sign up if you are a new user.
5. Set your price and list your tickets.
Step by Step Guide to Selling on SeatGeek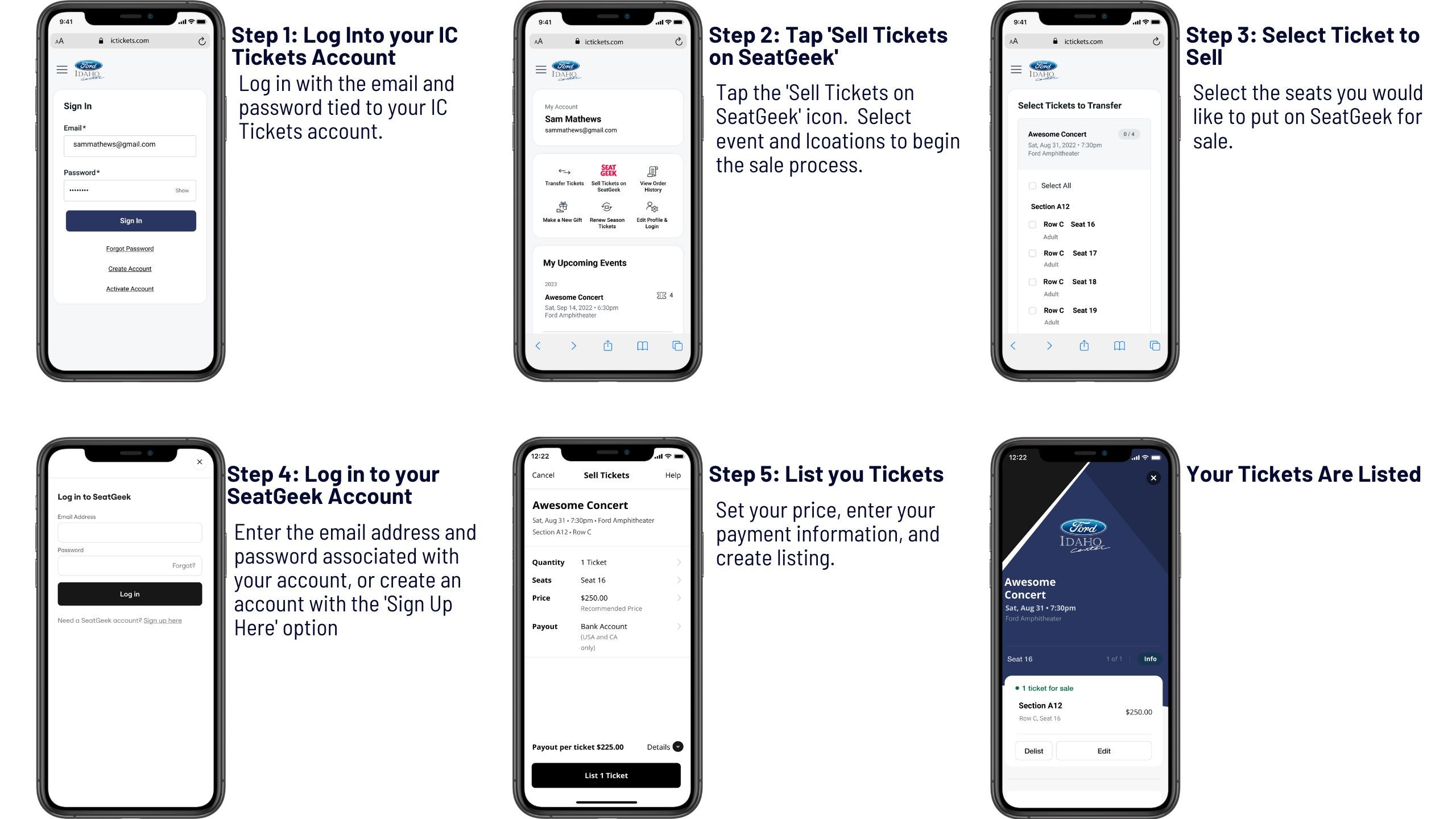 Platinum Seats are premium tickets to concerts and other events made available by artists and event providers. They provide fans with fair and safe access to some of the best seats in the house.
Are Platinum Seats Resale Tickets?
No. Platinum Seats were not purchased initially and then posted for resale; they are being sold for the first time. Platinum Seats enable market-based pricing (adjusting prices according to supply and demand) for live event tickets, similar to how airline tickets and hotel rooms are sold. The goal is to give the most passionate fans fair and safe access to the best tickets, while enabling artists and other people involved in staging live events to price tickets closer to their true value.
What price are Platinum Seats?
The price you pay is the original price of the ticket. Platinum Seats were not purchased initially and then posted for resale; they are being sold for the first time on the Ford Idaho Center's ticket sales site on behalf of the artist or event provider. Note that prices can increase or decrease at any time and there are no exchanges or adjustments for previously purchased tickets.
Where can I buy Platinum Seats
Platinum Seats are exclusively available for purchase online at ICtickets.com.