Ford Idaho Center Earns Incentive for Energy Efficient Improvements
NAMPA, Idaho (November 21, 2022) – As a yearlong project reaches completion, the Ford Idaho Center is celebrating major improvements to bring energy efficiency and cost savings to Ford Idaho Center.
The Ford Idaho Center works diligently to modernize elements of the multi-complex property to remain in the forefront of safety and security while bringing world class entertainment to the Treasure Valley. As stewards accountable to the City of Nampa, improvements in infrastructure and cost savings are foremost in keeping the Ford Idaho Center successful. By participating in Idaho Power's Commercial & Industrial Energy Efficiency Retrofits program, the Ford Idaho Center earned an outstanding $313,229.92 incentive to help improve lighting and safety throughout their facilities.
Ford Idaho Center General Manager, Andrew Luther shares "We are thrilled to have completed yet another LED upgrade with the help of Idaho Power. Their incentive program makes these expensive upgrades achievable for many businesses & we are thankful the program was made available to the Ford Idaho Center."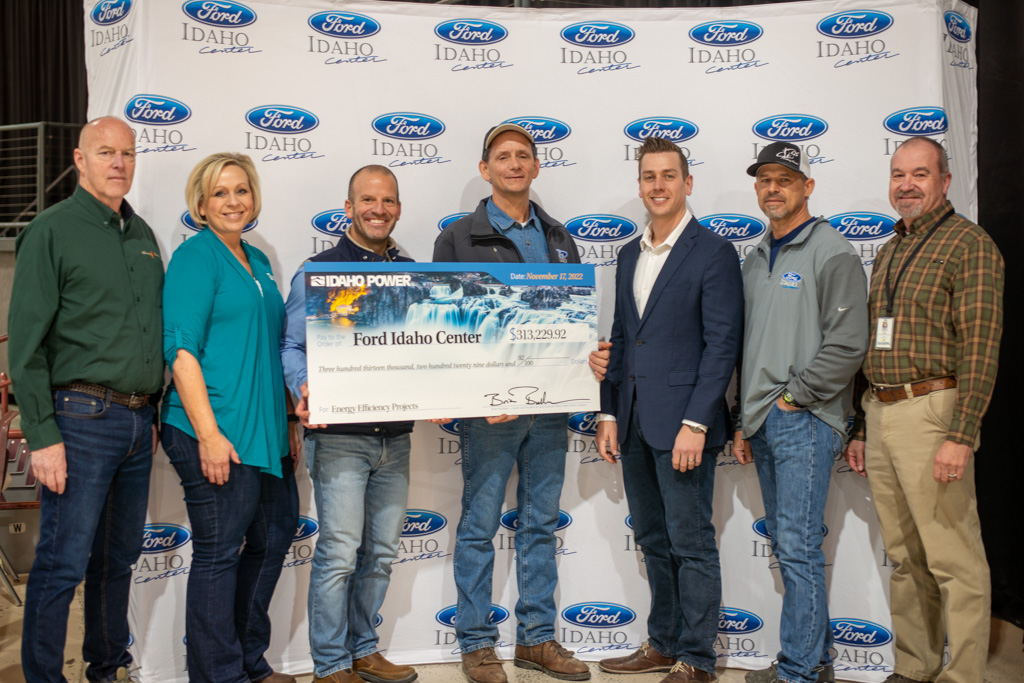 "Helping our business customers meet their energy efficiency goals is an important part of our work as trusted energy advisors," said Idaho Power Regional Manager Angelique Rood. "We are so glad our Retrofits program was able to help the Ford Idaho Center identify areas to make energy efficient upgrades, saving them 1,491,571 kilowatt hours of energy, which is enough to power 130 average size homes in our service area for one year."
Several major upgrades have been made throughout the property over the course of 3 years including the Sports Center and Horse Park lighting, outdoor safety lighting, and Arena HVAC improvements to increase efficiency, comfort and safety. The Arena lighting was by far the largest undertaking, including 174 color changing LED fixtures and new data management that serve the facility's dynamic needs from sports and TV lighting to rodeo and concerts. The ongoing benefit of these upgrades also includes an average annual energy bill savings of $85,000.00 per year.
Kevin Hall, Ford Idaho Center's Facility Engineer adds "Idaho Power has been instrumental with their programs that incentivize upgrading our facility, from single incandescent bulb upgrade programs to HVAC controls incentive programs, along with free learning programs to teach how controls, pumps and many other building hardware can run more efficiently. There were several goals in our approach to upgrading the facility to LED; the most recent being the Ford Idaho Center Arena. One is energy efficiency with Idaho Power, and another is our patrons experience in having the most unique sporting fixture available to us. A lot has been learned from Idaho Power and we look forward to future upgrades with our partners along the way".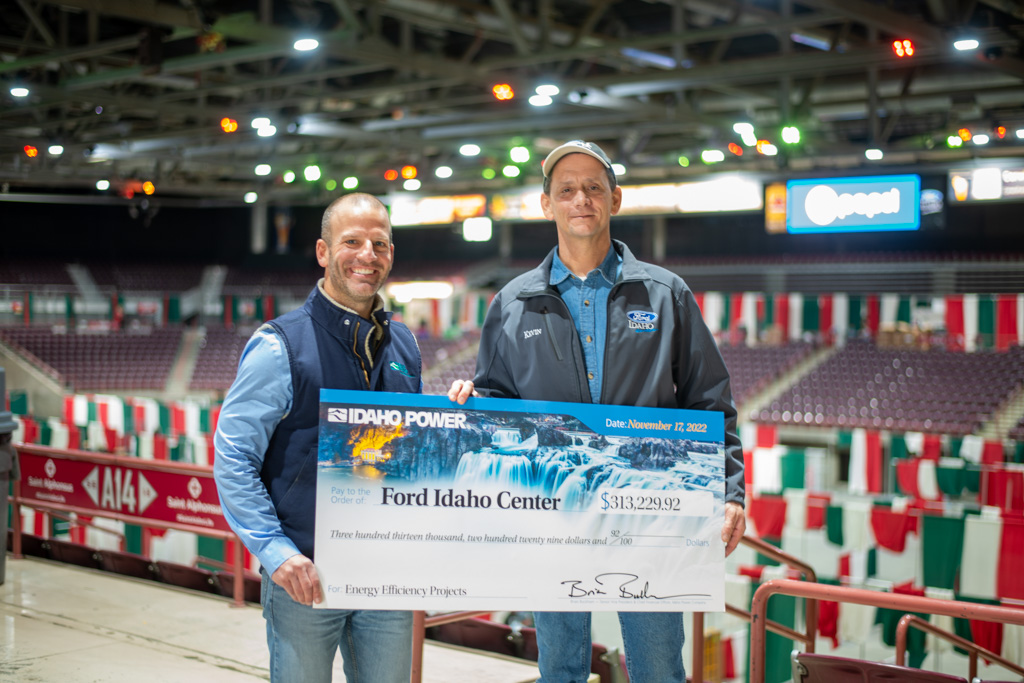 # # #
About the Ford Idaho Center
The Ford Idaho Center is managed by OVG360 and is conveniently located off I-84 in Nampa, Idaho. The campus is home to the Ford Arena that holds a capacity of 12,000, the Ford Amphitheater that can hold up to 11,000, and the Ford Idaho Horse Park and Sports Center that has a capacity of 2,200, has 578 horse stalls, 44 full hook-up RV spots, 16 partial RV hook-ups, two covered riding arenas, and four open riding arenas. The Sports Center also offers a full restaurant and meeting space that is open to the public during select events and is also available as a rental space.
About OVG360
OVG360, a division of Oak View Group, is a full-service venue management and hospitality company that helps client-partners reimagine the sports, live entertainment, and convention industries for the betterment of the venue, employees, artists, athletes, and surrounding communities. With a portfolio of more than 200 client-partners spanning arenas, stadiums, convention centers, performing arts centers, cultural institutions, and state fairs around the globe, OVG360 provides a set of services, resources and expertise designed to elevate every aspect of business that matters to venue operators. Service-oriented and driven by social responsibility, OVG360 helps facilities drive value through excellence and innovation in food services, booking and content development, sustainable operations, public health and public safety and more.
Media Contact: Jacalyn Hill
Marketing Director- Ford Idaho Center
O-208.442.3364
jacalyn.hill@oakviewgroup.com
The Ford Idaho Center – "The Premier Multi-Event Complex in the Pacific Northwest"